Dog Ears
For Work
Great for the work truck. You can use them to tie 2x4's, pipe, fencing, ladders, or just about anything else, and not need a trailer when you use one of our Hitchin' Rack's.
*we recommend a Hitchin' Rack to compliment Dog Ear style headache racks.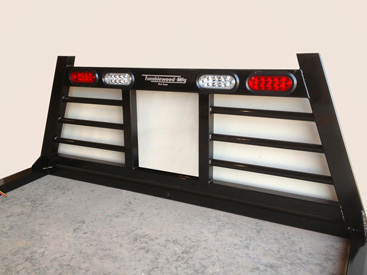 Incandescent Lights
Much Brighter Than Your Cargo Light
The standard in lighting, these are the normal incandescent bulbs that you see most often on trailers. We provide 4 lights that tie into your truck's existing wiring harness. The red ones act as extra brake lights, and also work with your turn signals to signal your upcoming turns. Excellent if your trailer lights go out and you don't know it. We also mount 2 clear lights inside of the red ones that assist in backing up. Don't run into your trailer in the dark anymore. We can also wire them into a toggle switch so you can flip them on and off on the fly. Loading in low light isn't a problem anymore.
LED Lights
Superior Brightness & More Affordable
LED's have come a long way in recent years, they are now brighter than ever and much more affordable than in the past.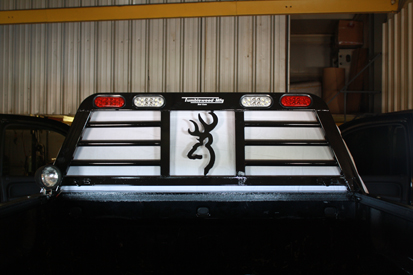 Open Center
Access Port
Allows easy bed access from the cab for pickups equipped with a sliding back glass. Also looks good on any pickup.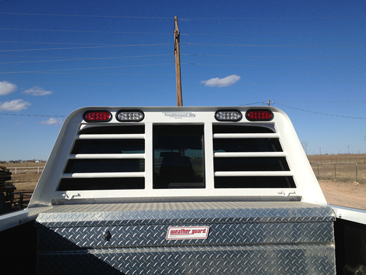 Grab Handles
Utility Loading
Assist in getting in and out of your bed and provides extra places to place straps to secure items in the back of your truck.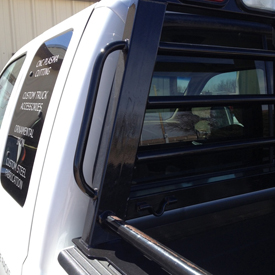 Swivel Tie Downs
Secure Your Load
These handy tie downs are a Tumbleweed exlusive. We recommend 6x but can can weld on as few or as many as you want, wherever you want them.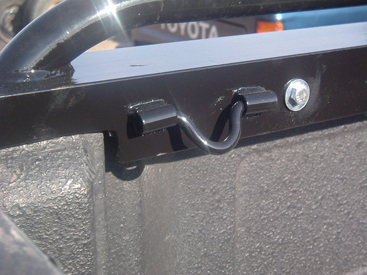 Silhouette Cut
Image Branding
We can CNC Plasma-cut your logo, brand, or anything else to go in the middle of your rack.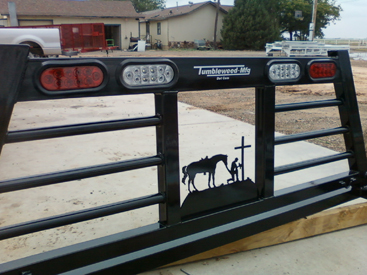 Click any image below to view full size!
Pricing Page